As college level is the last level for getting into professional level baseball, every student wants to play in the college. In one sense it isn't so easy to become a baseball player in the college. But in another sense plenty of job for the suggestions maintaining then you can become a baseball player in college. Obviously, it will take you to the next level.
Briefly, I can tell you have to search for the best colleges where you think you can make a good performance. Fix all your general problems in your game. The most important thing is to catch the mind of your coach. Get the necessary things to apply for joining the college team and finally improve your skills and tactics.
The most challenging fact and hindrance
Probably you are a high school baseball player. It isn't so easy to become a college baseball player like the school. Certainly, you didn't face a lot of obstacles and had no such a big competition. But there is a big competition waiting for you.
For an example of the United States, there are about 5 lakhs high school baseball player. But there are only 58 thousand seats reserved for the players. So you can find only 11.6% students will have the opportunity to play into college baseball team. But don't be so afraid you can be one of the 57K. From the view of 5 lakhs, it's a tuff number for you but 57k isn't a small number that you can't be involved.
For playing the college sports what are essential to know
If you think only being a high school playing or knowing the rules of baseball is enough to play in college then it's wrong.
You must follow the two organizations NCAA and NAIA. The full meaning of NCAA is the National Collegiate Athletic Association and the full meaning of NAIA is National Association of Intercollegiate Athletics. The particular rules for the players have determined by these two organizations. Also, they determine who can play in the next level.
It is a matter of sorrow that many people have no idea about NCAA and NAIA so don't be influenced by anyone's opinion that these organizations are nothing. Before taking a decision about your game you always follow these websites. For being eligible to play in the college its essential to follow their rules.
Even not only in college, you have to follow them to school as well. They have very organized websites. So you can follow and check about games visiting the websites of NCAA and NAIA.
Specific classes and necessary grade for a renowned college
Everyone knows there are different categories of colleges. Everyone dreams of joining a renowned college. But when the choice is high then the requirements are also high. When you are in school you have to take the particular and approved classes. Make sure that any class is missed. Because you also have to join the tests.
It's really important to do good in the test. Also if you can gain a good grade then the possibility of getting into a good college increase. If your grade is low then you may have to join a college which isn't your dream. So always try to gain the best grades as everyone wants to join a renowned college baseball team.
Necessary steps you need to take to become a baseball player in college
I am suggesting you some necessary jobs and steps that may help you to be a good baseball player in college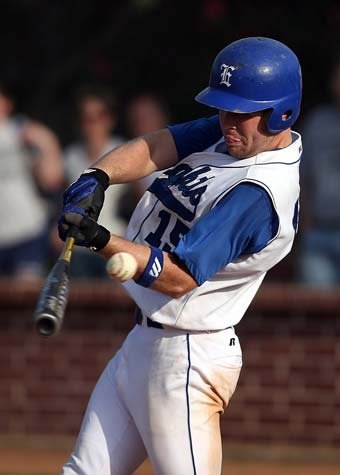 Listing the renowned colleges: It's a big fact that from which college you are playing from. A good college has good facilities. You will get a good coach. You will have all the talented friends from whom you will get the benefit.
But as it's not so easy to get chance into a renowned college make the list of all the renowned colleges. Take admission into all the colleges and get to know which college requires which things. Get prepared for every one of them.
I hope you will be able to get admitted any of them. So make a list and start looking at those colleges.
Find out the requirements of the renowned colleges: Every renowned college have different requirements. Some want a high grade, some want good results in the test, some looks for your skill and others. Check out the most required things and be prepared.
If they want a good skill player and you think you are still weak then practicing. If they want a very high grade and if you don't have then turn back to the college.However, if you start taking preparation early you will do good.
Impress the coach: When you are admitted to the college it is very tuff to impress the coach. But it's necessary to catch the eye of your coach. You have to give effort, you need to show him to the coach. The coach has to look at all the players in practice. So get close to his eye is really a difficult task.
At first, find out the things and skills the coach likes. If you are weak at that point then bring a change in yourself. The coach must look at you and call you for the game. There is another way that you have to make progress on the skill you are expert. The coach then thinks about you for the position and skill. So do the necessary things to get close to the eye of your coach.
Things you need to carefully maintain and improve
Skill: The first thing is a skill that is required to become a great baseball player in college. There are 4 important facts you need to improve and take care of. These four facts
are
Hitting power
Fielding ability
Speed
Throwing accuracy
There are 3 divisions and each requires different skills level. Division I requires the best-skilled players. Division II requires medium skilled. Division III requires a little lower skilled players. Get knowledge about the requirements of player of position in a different position.
Pitchers: For division I the pitchers need a throwing velocity of 86 MPH or greater. For division II it is 81 MPH or greater and for division III it is 80 MPH or greater.

Catchers: For division I the required pop up time is 1.95. For division II this time requirement is 2.0 or below and for division III the time requirement is 2.1 or below.
Midfielders, infielders, outfielders: For division I the required time is 6.8 or below in that one need to possess a 60 yard. Also, they require a throwing velocity of 85 MPH or greater. For the same yard division II requires the time of 6.9 or below beside a throwing speed of 80 MPH or greater. And for the same yard division III requires a time of 7.35 or below with a throwing velocity of 75 MPH or greater.
Corner-infielders: Comparing with the infielders they don't need to be so fast as they. One need a time of 7.25 for 60 yards and the throwing velocity is same 85 MPH. This is for the division I players. For division II the time required is the same as Division on 7.25 but the throwing velocity is 80 MPH or greater. For division III the required time is 7.35 or below and a throwing velocity of 75 MPH or greater.
These are the basic rules and required skills for the player. I suggest you raise up the throwing velocity to 85 then you will get big chances to prove you. Besides this, you need to tame some more mental and physical skills such as
Keep calm under pressure.
Good fielding skills.
Ability to frame pitches, drop down to block pitches and managing games.
A sufficient arm strength.
A fit body, good height, and a lasting breath.
You don't need to be anxious if there are mistakes in any skills. You can regain and improve those skill. The main suggestion to improve your skills is just working hard and keep practicing.
Required academic standards
Whether you are a skillful player or a great physical ability you will never get into college team without a good academic GPA (grading point average) or SAT (Standardized Aptitude Testing) score. Like football and basketball, baseball doesn't receive a large amount of money from sponsorship or tv deals. So the scholarship largely depends on the academic ability of a student. The GPA required by division I NCAA programs and lower levels such as division II, Division III, JUCO etc. is 3.0 and higher. And the expected SAT score is 1000 or 1000+ out of 1600.
Many students do not care about their GPA or SAT point and some students can't raise up their score. But it's necessary for them to increase and reach the minimum point. I am suggesting you give much time on academic study if you are in such a crisis. If it doesn't help you can take private tutor's help as well.
Morality and character
In the eye of the coach, media and friend your morality and character are two important things. You may play great and you have good GPA. You can't get a chance if the behavior of you isn't good. The coach will never select you or the students will never talk about you. Besides the rough behave downfall the students very fast when it comes in front of the media. So I have some tips for you
Always keep patient during practice and other activities. The seniors and coach will think you bad and rude if you lose patience too early.
Don't be so aggressive on any activities. Especially never show anger on you senior and obviously remain humble on your coach
Maintain regularity on the practice days. If you miss you will not get priority like the regular students.
Respect the seniors always. Never go into an argument from them. It will cause a bad effect on you.
Keep yourself away with troubles from law enforcement and teachers and others administrations.
Always maintain these necessary things. It will help you to become a humble and popular player. Always remember only 1 mistake can be the end of your baseball career.
Eligibility for playing into the tournaments
To become a successful baseball player in college you must know the eligibility that where you can play. We know there are many tournaments such as Division I, Division II, Division III, JUCO programs and others. Above all Division I is the first target of a player to play in. But there is eligibility.
We have known before only 11.6% students can get into college baseball team. All of them will not play good leagues. Only 2.1% of high school players will join Division I college baseball. So we know how tuff it is. Many students can't get into this. But don't get disappointed.
Others 9.1% players will get another college baseball programs. Remember Division II, Division III and JUCO programs are also an excellent opportunity for a college student to hone himself.
Hiring a personal coach (optional)
Everything is not essential to do like this hiring a coach. But many students do it for improving their game skill and taking personal guidelines. Some students get benefitted using this. But it is really so costly and most of the parents don't want to carry this. So if you have too much weakness and lots of money you can hire a personal coach for your improvement. But I am also saying nothing is worth practicing. Keep practicing regularly, if you feel unimproved then increase the time of practicing. You can also read books and watch videos or take help of other close players.
So here are I have given the path to becoming a baseball player in college. Maintain the rules and regulation. Hardly desire to play in division 1 college baseball and give effort. Always remember you have to be mentally and physically fit, well skilled, academically excellent and good-charactered. Wish you will have a good career in your college.