Baseball throwing nets come in various types and styles depending on their purpose. In addition, incorporating excellent baseball nets in your training regimen will surely improve your pitching and batting when paired with the proper drills. Therefore, we aim to show you the different throwing nets and explain them thoroughly to help you on deciding which one to buy.
Related: Softball Pitchers Screen Reviewed: Mound Protection on a Budget
The Different Types of Baseball Nets
As baseball gloves have variants like the best infield gloves and outfield gloves, baseball throwing nets also have varying types. Furthermore, each specific type of baseball net serves its purpose on the field. Still, whether it is your pitching, fielding, or batting needs, a baseball net has got you covered. Without further ado, let's continue to the different types of baseball nets.
Baseball Pitching Nets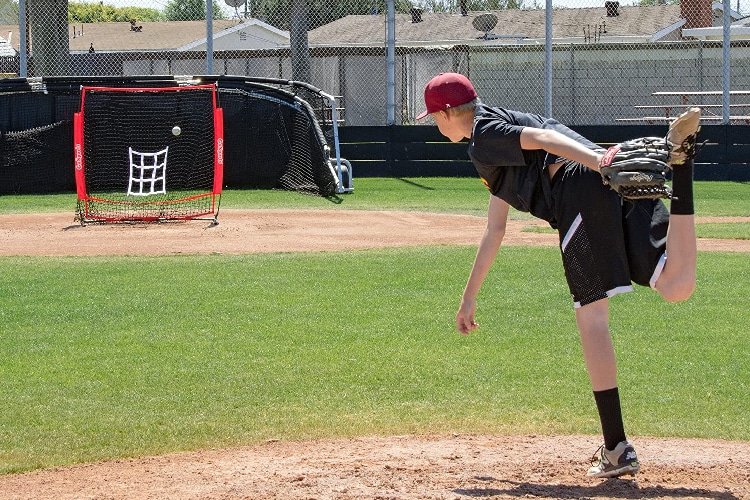 A baseball pitching net acts as a ball organizer and strike-zone emulator for pitchers that aim to put their throw to the next level. In addition, a baseball pitching net features a design that acts as the strike zone to develop the precision of the pitcher's throw. Plus, this neat little feature enables pitchers to get the feel of pitches that will surely leave batters scratching their heads. However, some baseball throwing nets for pitching don't include a strike zone. Therefore, buyers must learn if a baseball pitching net comes with an attachable strike zone.
Aside from a baseball pitching net being an excellent tool for pitching training, some manufacturers also provide excellent portability perfect for frequently traveling athletes. Moreover, baseball pitching nets offer an easy assembly to make training more time-efficient and convenient. Still, buyers should be wary of the anchor points or stand of a baseball pitching net since its stability mostly depends on it.
Lastly, batters could also incorporate baseball pitching nets on their swinging regimen. With one quick assembly, batters can receive a toss from a soft toss pitching machine, unleashing powerful swings just like on the plate. What makes this better is that owners can easily assemble this type of baseball throwing net, enabling anyone to train in a garage, backyard, and virtually anywhere.
What to look for when Buying Pitching Nets?
Portable construction such as a foldable setup.
Sturdy base material.
Assembly ease.
Additional features such as a strike zone and a carrying case.
Net material dutability.
PROS:
Most products offer portable construction.
Great for training pitchers to send the ball within the strike zone.
Both pitchers and batters can incorporate pitching nets in training.
Usable in both indoor and outdoor training.
CONS:
Throws require precision, especially when used in residential areas to prevent property damage.
Portable Baseball Backstops
A backstop is a crucial fence during baseball games and training, especially when training with a batter and pitcher. A backstop's purpose is to stop balls improperly hit by a batter or improperly pitched by a pitcher. In addition, when training outside official baseball fields, players should bring a baseball backstop to prevent the ball from traveling further in case of mis-hits. However, a backstop is an enormous chunk of metal too heavy to move; as a result, players look for portable backstop options.
During outdoor training, especially outside official baseball playing areas, keeping the ball in the training area can be quite difficult. Moreover, spending time to collect the ball from out-of-reach areas can prove to be time-consuming, wasting precious training time.
Still, even how convenient it is to bring a baseball throwing net as a portable backstop, players must know that installing one requires a pre-existing pole or infrastructure for it to cling on. This condition may force players to not opt for one when training outdoors. As a result, manufacturers also make pop-up protective baseball backstops for a player's convenience. In conclusion, using a portable baseball backstop is still a better option than spending $10,000-$20,000 for a full-sized backstop.
What to look for when buying Portable Baseball Backstops?
Baseball net material's durability.
The attachment mechanism for pre-existing poles and infrastructure.
Stretchability for improved usage in different settings.
At least the size of 10'x10' to provide ample coverage.
Weather-proof materials.
PROS:
A convenient way to provide a backstop in almost any training area.
Extremely cheaper compared to a regular backstop.
Its portability allows use when traveling.
Provides a lot of area coverage compared to a pitching net.
CONS:
Does not provide the coverage of full-sized backstops.
Baseball Rebounder Net
A baseball does not bounce like a tennis ball due to its construction. Therefore, training your fielding skills alone is a tedious process. To make a baseball bounce, fielders must utilize a rebounder net that helps them field the ball post bounce. As a result, fielders incorporate a baseball throwing net as a rebounder. But what makes a baseball rebounder net?
A baseball rebounder net acts like a trampoline for baseballs. Because a baseball cannot bounce on its own, a rebounder net collects the initial force of a baseball and mirrors it in the opposite direction. Contrary to baseball pitching nets and portable backstops, a rebounder net features an elastic-like net, avoiding the net to cushion the baseball once it makes contact.
Furthermore, a baseball rebounder net should feature a stable base, preventing it from tipping due to the impact of a baseball. In addition, the frame of a rebounder net should also be capable of withstanding the force of a baseball in case of accidental hits.
What to look for when buying Baseball Rebounder Nets?
Elastic net system for rebounding.
Durable frame that can withstand baseball impact.
A stable base that doesn't tip over when hit by baseballs.
Decent net fixing to further spread the net all over the frame.
Other features like adjustable net angle to increase the range of its usability in various drills.
PROS:
Excellent choice for fielding with an infielder's training glove such as a pancake glove.
Enables infielders and outfielders to train their fielding skills alone.
Great for experienced fielders.
Rebound nets can accommodate other ball types such as tennis and training balls.
CONS:
Not suitable for beginners as they may develop bad fielding habits when left alone with a rebound net.
Baseball Pitching Screens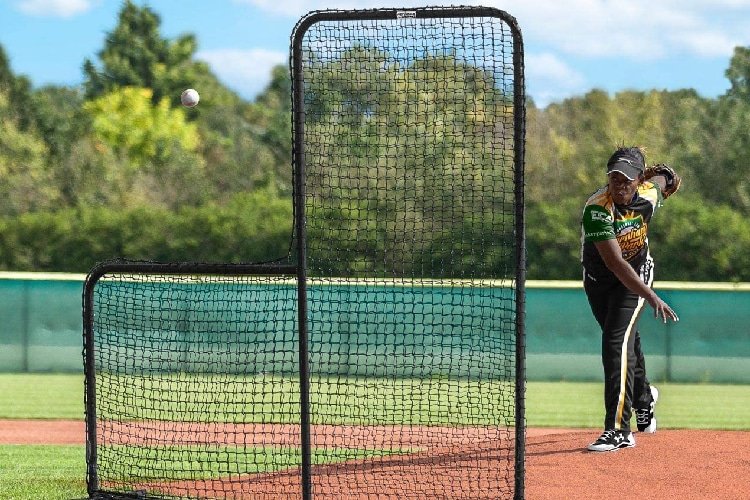 A baseball pitching screen is one of the most essential baseball throwing nets, especially during a pitcher and batter's partner training. Plus, a baseball pitcher's screen acts as initial protection for a pitcher against rogue balls. In addition, a baseball pitching screen is an excellent addition to a baseball coach's gear, especially during batting training.
Usually, most baseball pitching screens feature an L-screen construction to enable pitchers to execute a pitch while providing protection. However, pitchers must ensure that their pitching screen in mind features durable materials to make their purchase last for a long time.
Furthermore, buyers must not confuse a baseball pitching screen with a pop-up screen as they have different features such as portability. A baseball pitching screen features a rigid frame system that is not adjustable whatsoever. Meanwhile, a baseball pop-up screen features excellent foldability and portability.
What to look for when buying Baseball Pitching Screens?
Robust frame for increased protection.
Durable net materials.
At least 7'x7' regulation size.
Sturdy base supports for stability.
L-frame construction for pitching ease.
PROS:
Protects pitchers and coaches during batting training sessions.
The L-frame construction of a pitching screen makes pitch delivery easier.
Easy to wrap with nets.
Provides a sturdy parallel base to provide stability even on the pitcher's mound.
CONS:
Beginner pitchers may develop a dependency on baseball pitching screens even during official games.
Baseball Pop-Up Nets
Excellent for players who need highly portable baseball throwing nets, a baseball pop-up net will surely not disappoint. In addition, a baseball pop-up net is extremely versatile, enabling use as a portable backstop, pitching screen, or a catch net.
As a general rule, we recommend players look for a baseball pop-up net that features at least 7'x7' for drill versatility. Plus, this sizing is also the recommended regulation size for baseball screens. However, buyers may look for a bigger size to fit their purpose; for instance, when using it as a baseball backstop.
Lastly, players will surely benefit from the ease of assembly of a pop-up bat; but, its portable is not ideal for windy outdoor situations. Therefore, we recommend buyers check if the pop-up nets they are buying include a stake they can use to secure the net on the ground.
What to look for when buying Pop-Up Nets?
Highly portable folding construction.
At least 7'x7' in size.
Included stakes to keep it secure during windy situations.
Sturdy base to keep it stable when hit.
Lightweight construction to make it suitable for traveling use.
PROS:
Cheaper compared to standard regulation-sized baseball nets.
Capable of being a substitute to a pitching screen.
Coaches can utilize a pop-up net as a portable backstop.
Extremely easy to set up and tear down.
CONS:
Due to its lightweight construction, a pop-up net still requires additional harnesses to make it stable.
Baseball Catch Net
As we all know, baseball throwing nets will not provide their desired function without a proper catch net. Therefore, buyers must find a versatile catch net that they can utilize to make their throwing drills fruitful.
Furthermore, players may utilize a baseball catch net as a baseball batting cage net. However, buyers must first know the coverage size that they need when constructing a batting cage.
Lastly, a baseball catch net should feature durable net materials to provide efficient baseball catching upon impact. Moreover, buyers should consider the mode of installation a baseball catch net provides.
From baseball pitching nets to pop-up nets, buyers must choose the best baseball catch net to maximize the drills their baseball catching nets can provide.
What to look for when buying a Catch Net?
The hole spacing should be at least 3-5cm.
Weather-proof nets are a plus.
Easy installation process such as pre-existing hook slots.
Durable net materials such as nylon twine.
Thick corner materials to ensure durability when in use.
Conclusion:
In conclusion, there are various types of baseball throwing nets you can utilize to further your fielding, pitching, and batting skills. Still, buyers must keep in mind that developing good fielding, pitching, and batting habits are one of the few prerequisites before training alone with the best baseball throwing nets. Nevertheless, we hope that this article has shed some light on how players can incorporate baseball throwing nets on their respective training regimens.
Frequently Asked Questions about Baseball Throwing Nets
Q: What do you hit baseballs into?
A: When training with a team, batters aim to hit baseballs further in the outfield as they can. However, when training with a pitching machine, we recommend players hit the ball into baseball throwing nets to keep their training balls organized.
Q: How can I practice pitching at home?
A: Pitching training requires pitchers to efficiently deliver a ball within the strike zone, sometimes reaching speeds of up to 90mph. In a residential setting, a baseball pitching net can help pitchers achieve this feat while providing visual cues on where to send the ball.
Q: How do you hang a baseball net in the garage?
A: Hanging baseball throwing nets in the garage requires pre-existing attachment points. However, if you do not have the luxury of having one, you can easily use a setup and teardown a pop-up baseball net in your garage.
Q: How do you do batting practice?
A: Batting practice with the help of a pitcher or a soft toss pitching machine is possible with baseball throwing nets. When training with a pitcher, you can utilize a pitching screen to ensure the safety of your training partner.
Conversely, we recommend using a pitcher's net or a baseball pop-up net when hitting balls from a soft toss pitching machine. This method ensures that baseballs will not fly anywhere, possibly destroying public property at the same time.
Lastly, we recommend batters utilize baseball bucket bundles to provide them with an ample amount of baseballs during training.
Q: How much does it cost to build a backyard batting cage?
A: Building a backyard batting cage may cost from at least $1,500 up to $8,000 depending on its size and the quality of baseball catch nets.