Which one will be the best? Metal or molded baseball cleats? – it is always an argumentative confusion amongst baseball lovers and players. Therefore, the topic of the "metal vs molded baseball cleats" has become a very common problem for many of you.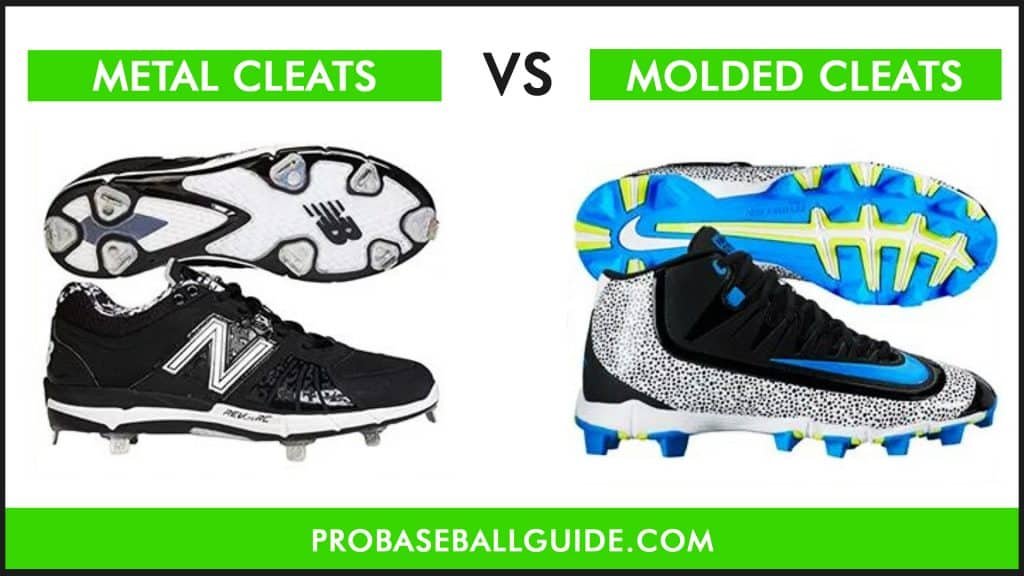 I cannot make an exact solution for you if you are confused about this fact. But I can make sure that this article will help you to get out of this confusion and to find out the best baseball cleats for youth because here I am going to point out each and every fact of the metal and molded cleats together.
So, this will be helpful for you to find out which is better for you. I hope you will read the whole article to make a crystal-clear decision. I have tried to make it short and precise so that you can find the facts easily.
However, let's see which one is good for which facts.
3 Excellent Metal, Molded, and TPU Cleats from Amazon (Quick List)
Here is the Quick List
Last update was on: September 9, 2021 10:38 am
The Difference Between Metal and Molded Cleats
To make it clearer, here I have taken a few pointers that will show you more information on these different types of baseball cleats. I think it will make it easy for you to have a better idea.
Materials:
Baseball cleats are in the maximum case made of original and synthetic leather whether it is with metal studs or molded one.
In the case of metal cleats, the studs are made of high-quality metals. It is good as one among different types of boat cleats. Besides, in the case of some cases, there are rubber caps for metal cleats.
But when it is a molded cleat, the studs can be or either plastic or rubber.
Traction:
Metal cleats are comparatively better to provide traction.
As the metal cleats are with thin, sharp, and strong metal studs, they are good to dig up the mud and the grass. So, these hybrid baseball cleats are meant to be better to provide more traction. Because of this, metal stud baseball cleats are quite popular among experienced players.
Conversely, molded cleats have no sharp studs; therefore, they can't ensure as much traction as a metal cleat can.
For specific players:
In the field, infielder and pitcher baseball cleats are usually made of metal due to the increased traction and maneuverability they provide.
As I have said it before that metal cleats ensure more traction, you should choose a pair of metal cleat if you are a pitcher or infielder. They need more traction as they have to change the direction frequently.
On the other hand, outfielder baseball cleats usually feature molded materials because they don't have to face them as much direction-changing situation as the infielders and the pitchers have to.
Safety and approval:
These two facts are related. Because which is unsafe for children is not approved and allowed to use in different leagues.
Metal cleats for youth baseball players are not completely safe. So lots of leagues don't allow them to use metal cleats. In relation to this, molded cleats are safe and also have no problem with approval and acceptance.
Use outside the field:
Often you need to use your cleats outside the field. Like while going or coming back from the field.
If you have any kind of intention of using your cleats outside the field then don't look for a metal cleat.
Metal cleats are only good to use in the field. They make noises and are cumbersome. But if you go for a metal cleat, I think it will be wiser. Because molded cleats are equally good to use both in the field and the outside like road and the other places.
Durability:
It is the most important fact. All of you must think of this fact before buying anything and everything.
However, metal cleats are more durable and long-lasting things in relation to the molded cleats.
So, if you are still in a phase of growth and having your foot grow too, then it is better to go for a molded cleat. Because they are not long-lasting things like the metal one.
Cost:
It is another biggest fact, anyway.
Metal cleats are naturally more expensive. You can even find a cleat of 150$ too. This is why metal cleats for youth baseball are not suggested.
But molded cleats are inexpensive. Cleats of 40$ even are very available in the market. Because of this, in the previous point, I suggest you take a molded cleat if you are in a phase of body growth.
Brands:
You must be thinking of the brands now. Are you?
However, almost all popular brands like Nike, Adidas, Reebok have their own designs and models of both molded and metal cleats.
So, I think you have learned almost all the necessary facts of these two competitors. Now, you can think and get which one is good for you.
But still, if you are in confusion, I have one more dessert for you as a solution. Let's see what is it.
Interchangeable cleats:
Interchangeable cleats are the biggest solution if you are getting out from the confusion of metal vs molded baseball cleats.
An Interchangeable cleat refers the cleat that has adjustable studs. That means you can adjust the studs either metal or molded one with the shoe. The studs and adjacent with the sole with some easy to set screws. So, you can easily and quickly change the studs of your cleats.
This is for you to experience both of the cleats. If still, you are really in a bad situation in selecting one from these two, I think interchangeable cleats are the best solution for you. But as it is more functional, you have to pay comparatively more than the other two.
back to menu ↑
Excellent Metal Cleat from New Balance
New Balance Men's Fresh Foam 3000 V5 Metal Baseball Shoe
Brand: New Balance
Type: Metal Baseball Cleats
Price: $59.90 – $184.40 depending on size and colorway.
If you are looking for a pair of metal cleats without breaking the bank, then the New Balance 3000 V5 Baseball Shoe is an excellent choice for you. This metal baseball cleat features a 100% synthetic sole and imported materials, providing decent performance while keeping its cost down.
Furthermore, the 3000 V5 incorporates a Fresh Foam midsole cushioning, providing unparalleled comfort and a lightweight feel when worn. In addition, the low-cut design and TPU/poly combo mesh reaction-diffusion design help the ankles of its users to freely move in any direction.
New Balance provides its users with 8 strategically placed metal spikes under the 3000 V5, allowing the cleats to easily dig in the dirt for better traction and maneuverability. Lastly, the lace cage of the 3000 V5 secures the laces, preventing accidental tripping when running.
Specifications:
100% synthetic sole
Fresh Foam midsole cushioning
Low-cut design
TPU/Pol Combo Mesh
8 metal spike outsole
PROS:
Provides excellent traction and maneuverability thanks to its metal spikes.
Offers youth baseball cleats for wide feet sizes.
The materials of the shoes provide a comfortable and lightweight feel.
The sizes of the 3000 V5 are true to size.
CONS:
We do not advise this baseball cleat for beginners as it features sharp materials.
back to menu ↑
The Best Molded Baseball Cleat from New Balance
New Balance Men's 4040 V5 TPU Molded Baseball Shoe
Brand: New Balance
Type: Molded Baseball Cleats
Price: $23.50 – $111.39 depending on colorway and size.
The New Balance 4040 V5 TPU Molded Baseball Shoe is undeniably an excellent value for its price. Featuring innovative technologies such as Kinetic stitchings and REVlite midsoles, the 4040 V5 TPU is a molded cleat to be reckoned with.
The New Balance 4040 V5 TPU features a synthetic-nubuck base paired with a rubber sole, resulting in a lightweight feel when used. In addition, the innovative Kinetic stitchings enable the 4040 V5 TPU to possess off-the-charts durability and flexibility. Plus New Balance incorporated a TPU film overlay to protect the Kinetic stitching from abrasions.
Moreover, the 4040 V5 TPU features the REVlite midsole that provides increased comfort and responsiveness from the cleats. Plus, the elastic tongue offers a comfortable fit on the top side of its user's foot. Lastly, the Nylon Combat Mesh lining paired with its molded foam heel improves the overall comfort and durability of the 4040 V5 TPU.
Specifications:
Kinetic Stitching
TPU outsole design
Nylon Combat Mesh lining
Synthetic-nubuck base
REVlite midsole
PROS:
Offers a selection of sizes for both wide and narrow feet.
Provides decent comfort and fit.
Features a traditional lace-up system for a more secure fit.
The low-cut design allows users to have unrestricted ankle motion.
CONS:
The molded cleats of this shoe provide less traction compared to metal cleats.
back to menu ↑
The Ultimate Balance Between Molded and Metal Baseball Cleats
adidas Afterburner 6 Men's Metal Baseball Cleats
Brand: adidas
Type: TPU Baseball Cleats
Price: $69.50 – $155.69 depending on size.
Premium doesn't necessarily have to be expensive with the adidas Afterburner 6 Metal Baseball Cleats. Featuring various innovative adidas technologies, the Afterburner 6 sits at the top of our list when it comes to excellent metal baseball cleats.
The adidas Afterburner 6 features the SprintSkin material that provides the shoes with improved stability and support. In addition, the LIGHTSTRIKE midsole offers excellent cushioning, especially when running and jumping as players execute intricate plays. Moreover, the SPRINTFRAME plate of the Afterburner 6 features TPU studs that provide the durability and traction of metal cleats while sharing a lightweight property comparable to molded cleats.
Furthermore, the Afterburner 6 provides a customized fit thanks to its widened lacing system. Plus, the tongue-less construction of the Afterburner 6 provides a sock-like compressive fit similar to the ultralightweight soccer cleats.
Specifications:
Adidas SprintSkin
LIGHTSTRIKE midsole cushioning
TPU studs and overlayed toe cap
Widened lacing system
Tongue-less construction
PROS:
Provides an excellent balance between metal vs molded baseball cleats.
Boasts a premium feel.
Great value for its price.
The placements of the TPU toe caps prevent users from contracting foot abrasions.
CONS:
The white and gold colorway of the Afterburner 6 requires meticulous maintenance and cleaning.
back to menu ↑
Final Thought
Now, the choice is yours. You are the one who has to make the final decision. But before making the final decision, I want to take a few minutes of you to give some suggestions.
First think about your ages, leagues, and cost. Think if you are in growth or not. Give priority to thinking about your position in the field.
Now, rethink the features of these two types of cleats. Match them with your situation and make sure you are the right person to have the particular one you are going to choose.
I think you already get your answer. If still, you have any questions, let me know. Stay close with your comments and feedback. Thank you in advance.
back to menu ↑
Frequently Asked Questions about Molded and Metal Cleats
Q: Are molded cleats better than metal?
In general, molded cleats are lighter compared to metal cleats; therefore, coaches typically recommend beginners to wear molded cleats. In addition, molded cleats are decently robust and versatile. Still, metal cleats provide excellent maneuverability and durability compared to molded cleats, which makes them the go-to for experienced baseball players. The answer to this question is more of a preference. For instance, if you prefer a lighter pair of shoes, you should go for molded cleats. Conversely, if you require enhanced maneuverability and durability, you should pick metal cleats. Lastly, we only recommend metal cleats for experienced players who know how to slide properly with the help of baseball sliding shorts. For beginners, we recommend them to wear molded cleats for safety reasons.
Q: Do baseball cleats make a difference?
Yes, metal baseball cleats comparatively perform better compared to molded cleats due to their more durable construction. In addition, metal cleats can dig into dirt better than molded cleats, resulting in improved traction and maneuverability during games. However, the heavier nature of metal baseball cleats may cause discomfort to beginners; therefore, we highly recommend young players and beginners stick to molded baseball cleats as they learn to move comfortably around the playing area.
Q: Are metal or plastic cleats better for baseball?
As stated, the debate between metal vs molded baseball cleats boils down to preference. However, if we were to put this debate from an objective point of view, metal cleats provide excellent durability and maneuverability compared to plastic cleats; therefore, metal cleats are better than plastic. Still, metal cleats are more dangerous compared to plastic cleats due to their sharp design, risking beginners from cutting themselves or others, especially when sliding on bases. As a result, we only recommend metal cleats for experienced baseball players or beginners who are ready to make the jump from plastic cleats to metal cleats.
Q: Do MLB players wear metal cleats?
Yes, MLB players wear metal cleats due to the advantages it provides compared to molded cleats such as improved maneuverability and traction. In addition, metal cleats provide better durability in comparison with molded cleats, making them an excellent choice for the intense level of play in professional leagues. Still, there are some professional players that sport molded baseball cleats because of their lighter weight, allowing professionals to run faster without constraint.
Q: How long do metal baseball cleats last?
Typically, metal baseball cleats can last from a full year up to a couple of seasons due to their highly durable build. However, these figures may change depending on how frequently you use your metal cleats and the type of ground you play in. For instance, the quality of metal cleats will degrade faster when you use them to train on rocky fields compared to artificial grass.