We all know that without a pair of fit, comfortable and suitable cleat, no one can be ready to keep his or her feet on the baseball ground. So, a baseball cleat is the foremost need for the players.
In a baseball ground, there are pitchers, outfielders, stickers and so on. A pitcher's role in the field is enormously important. This is why I have decided to write about the best baseball cleats for pitchers.
However, if you are curious about Outfielders cleats then you can check out this review and guide for Top 5 Best baseball cleats for Outfielders
In the ground, a pitcher's main task is to throw the ball to the catcher, staying on the pitcher's mound.
So, without a pitcher, a play is completely impossible. At the same time, a good pitcher often makes the game for the team. So, a pitcher's role is the most important one in the ground.
As much as a pitcher's role is important in the ground, his or her task is equally tough. If you are a pitcher, you should have a proper balance on your body and have to ensure that you can stop exactly where you want to. For that, a perfect pair of the cleat is important.
Top 3 Best Baseball Cleats for Pitchers (Quick List)
Here is the Quick List
Last update was on: September 26, 2023 4:31 pm
Cleat types for the pitchers.
Baseball cleats are not like the cleats of other sports. Unlike most other sports, in baseball, a cleat's role is very important. So, players cannot buy any cleat her or she want to. Remember that many things depend on your movement on the ground. So, before buying a cleat you should have proper knowledge of it.
This article will come as a guide for you if you are playing as a pitcher or willing to be so. Because I am going to discuss each and everything of a pitcher's cleats along with the reviews of 3 best baseball cleats for pitchers.
First, let me tell you about what type of cleats are best for you as a pitcher. The subsequent points are essential for you to learn before deciding to buy a cleat. So, keep your eyes on those facts and try to understand the overviews.
Types of cleats (metal, molded or turf)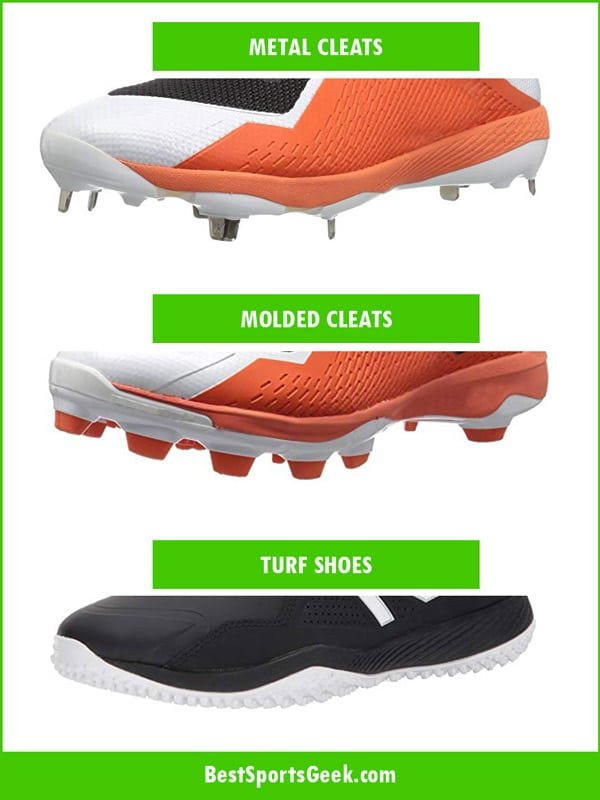 As for providing more grip and traction, metal cleats are suggested most for the pitcher. Because as a pitcher you need to have complete control over your body. For which, enough traction and sufficient grip are mandatory. Again, if the ground is full of grass and dirt, metal cleats perform the best for you.
Did I forget to warn you about the League's rule? Yes, be cautious. Your league may not allow you to wear metal cleats. There are many leagues that ban using metal cleats. So, be confirm about it.
If you are in such a situation or if you don't like a metal cleat personally then I will suggest you go for a molded cleat. They are also good to provide traction an grip in the ground. Moreover, in the soft and muddy surface, a molded cleat works better than a metal cleat.
Related: Metal vs Molded Baseball Cleats | Which one is Best?
Don't forget about the tuft cleats. They not bad at all. If the ground is turf or you are looking for a cleat for your casual practice then I recommend a turf cleat for you.
So, give a rethink about your league, your choice along with the quality of the ground surface before selecting your cleat.
Material
You must know that two types of cleats are available in the markets in accordance with their material or construction. I am talking about the genuine leather cleat and the synthetic leather cleat. It is also very important for a pitcher.
Experts always suggest the pitcher take a genuine leather cleat. Because while comparing with the synthetic leather cleats, a genuine leather cleat is more breathable and durable.
But it is true that genuine leather cleats are more expensive. So, for the young players who are in their growth phase, it is better to go for a cheaper, I mean a synthetic cleat. They won't dissatisfy you.
Top variation
You must be aware of the types of baseball cleats in accordance with the cuts. They can be low top, mid top, and the high top. Remember it that these are not just for styles. These variations can provide extra support for you.
It is true that none of these cleats can reduce or increase your performance quality. But they are particularly designed for a specific type of players. Have a look at the supportive features of these cleats below. They may vanish your confusion about them. You can choose any of them judging your type and expectations.
Low top:
1. Good for frequent ankle movement and creates no restriction of it.
2. Lightweight
3. Provides no Ankle support.
Mid-top:
1. Good for quick and easy ankle movement.
2. Provides average ankle support.
3. Are of average weight.
High-top:
1. Good to provide extra ankle support.
2. Comparatively heavier.
3. Creates restriction in frequent ankle movement.
Now, think about your type and expectation. I think you will get the answer.
Size and fitting
It is always very important to have a shoe or cleat of the perfect size whether or not you are buying it for sports. But when it is about baseball and about the pitchers, size and fitting can never be compromised. Remember that if you are feeling comfortable with your cleats, the game will not be easy for you.
Yes, a cleat with no perfect size must affect your performance in the ground. While choosing your cleats, make sure that it has enough space for your toe. But don't take an oversized cleat. I think you understand exactly what I am trying to say. Yes, you have checked over and over and select the cleat with the perfect size and that one which will fit you the best.
So, give a try on a cleat. Don't feel okay? Go for another. continue these until you get the best one for your precious feet.
Other facts that you cannot ignore.
There are some more important facts you cannot avoid while buying a good pair of cleats to play the role of a pitcher. Let's have a glimpse at them.
1. It will be a wise decision to select a cleat with the reinforced toe protection. They provide extra protection that reduces the risk of injury. Also, it helps to make a great performance as a pitcher in the ground.
2. Ensure a cleat with debris-free tongue. It will help you to get no dirt in your shoe that will be a reason for your irritation.
3. For the pitchers, cleats with thick tongue are good. Because they are good to make it more comfortable.
These are the main facts you need to keep in your head before buying a cleat for you. If you are aware of these then hopefully you can choose the best one for you. But if you are totally a newcomer and has a very little idea about baseball cleats, I can recommend you three best baseball cleats for pitchers.
I am pretty sure that they will never dissatisfy you. But for that, you have to ensure that you are selecting the best size for it. You know I cannot help you in this case. So, you are the one to deal with the size. But it is also necessary for you to learn about the features of these cleats. Your test may not match with me. So, I request you to have a glance at the precise description of these three best baseball cleats for pitchers.
New Balance Men's L3000v3 Metal Baseball Shoe
Let's meet another one, among New Balance's best baseball cleats for outfielders, New balance L4040v3 Cleat Baseball Shoe. Again, it is a low-cut metal shoe for your best performance.
For them of you who are confident about a metal cleat, New Balance Men's L3000v3 Metal Baseball Shoe is the best solution. It is quite like a total package. You will find almost all the main facts I just mentioned a moment ago, in this cleat.
You are free to choose any of its 14 impressive colors and of lots of sizes. All the colors are satisfying and will suit you well. It includes a thick and debris-free tongue that will prevent the dirt to enter into your shoe and make you irritated.
Also, it includes a Synthetic sole along with a Revlite midsole. Strong toe protection is also inclusive. Furthermore, it is enough durable to impress you as it is made of 100% synthetic and textile.
To be more specific, you can have a look over its pros and cons below.
PROS:
Includes 14 impressive colors.
Offers a thick and debris-free tongue.
Will provide enough traction and grip.
CONS:
Metal cleat. So, think about your league's rules.
Variation of the price.
I think if you are confident about metal cleats, you don't have to look further. It is then the best cleat for you.
New Balance Men's 3000v4 Turf Baseball Shoe
Let's meet another one, among New Balance's best baseball cleats for outfielders, New balance L4040v3 Cleat Baseball Shoe. Again, it is a low-cut metal shoe for your best performance.
FAre you looking for a cleat that you will use for a casual practice? If yes, then forget about metal and molded cleats. New Balance has brought the best turf cleat for you. So, let's meet New Balance Men's 3000v4 Turf Baseball Shoe.
It is another stunning cleat with rubber soles. You will be offered 14 different colors and styles along with a good number of size measurements. Also, it is comfortable, lightweight and good to use at both road and the ground.
For the low-top cleat lovers, it is the best one, I mentioned again. It is affordable, I mean it is very cheap in price. Also, it has a removable Insert along with a thick tongue. So, it will make you comfortable in the ground.
The pros and cons of this cleat will make you more specific. So, have a look over them in short.
PROS:
Affordable and available.
Offers 14 color classification.
Durable and comfortable.
CONS:
May not provide enough traction.
No debris-free tongue.
If you have decided to give a try on a turf shoe then don't think anymore. Just grab it. Believe, no other turf shoe will come as perfect as it is for you if you are a pitcher.
New Balance Men's L4040V3 Cleat Baseball Shoe
Let's meet another one, among New Balance's best baseball cleats for outfielders, New balance L4040v3 Cleat Baseball Shoe. Again, it is a low-cut metal shoe for your best performance.
Lastly, I recommend another one, among the best baseball cleats for pitchers, New Balance Men's L4040V3 Cleat Baseball Shoe. It is another cleat; a pitcher will soon fall in love with because of its amazing construction and quality. You know, it is lightest cleats, designed for a pitcher, in the market.
This outstanding cleat is durable, affordable and very good to provide extra traction and grip for you in the ground. Also, it is very stylish and all of its 15 designs are very good to look at. I am confident that you will be impressed by them.
The design with no-sew fantomFit upper makes it very light in weight. Also, it includes a debris-free thick tongue. Furthermore, Revlite lightweight foam midsole and strong toe protection are also available here.
Let's see the pros and cons of this cleat. It will vanish all your confusion about it if there is any.
PROS:
Includes Revlite lightweight foam midsole.
Provides debris-free thick tongue.
Very affordable.
Extra toe protection.
CONS:
Durability problem is found by some of its users.
I think to make a cleat durable; enough care is important. If you can ensure it for your cleats, I think you don't have to face such a problem. Moreover, I can assure you that you will get it difficult to find such an amazing and stylish cleat in the market. So, why not?
Final Thought.
I have selected three different types of cleats from the brand, New Balance. Because this brand has a good name for the durability and extraordinary qualities of their products. Also, they provide lots of sizes along with the variation of the same size for wider and thinner feet.
You can also look for some other cleats of other brands in the market. But make sure of the mentioned facts I described before. Give prior to the toe protection, debris-free thick tongue, and the types. I hope you will find the best baseball cleats for the pitcher which will suit you the best.