Before playing in an official baseball or softball game, children likely experience teeball first. In addition, teeball games are non-competitive games aiming to teach children ages 4-7 the fundamentals of baseball and softball. Consequently, teeball games provide children a fun and safe environment while learning the basics of baseball and softball.
However, similar to regular baseball and softball games, teeball games still require the appropriate gear. Given this, parents have to follow a gear checklist for their children, such as the best tee ball bats. Therefore, we collected 8 bang-for-the-buck teeball gear essentials, making the hunt for the best equipment a walk in the park!
Here is the Quick List
Last update was on: September 22, 2023 6:30 am
What Should You Buy for Tee-ball Games?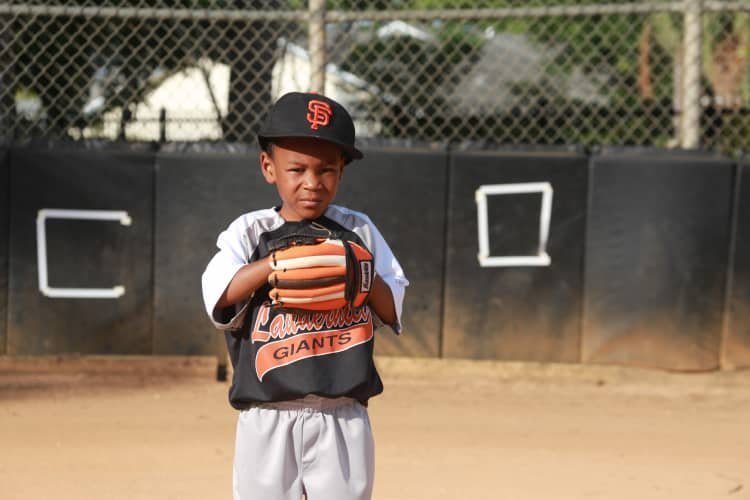 Of course, we can't go shopping without making a list of the gear we should get for teeball games. Although the Little League program provides equipment such as helmets, catcher's equipment, tee balls, and tee, it is still crucial for children to have their gear.
Not only this helps children move freely across the playing area, but it also optimizes the protection and performance they get. For instance, a properly sized teeball glove would help children field balls easier.
Similarly, a teeball bat optimized for a child's capacity will enable him to hit teeballs without developing bad batting habits. Therefore, parents must pick equipment suitable for their children for the best possible result in games. With this topic settled, let's move forward on the equipment you should buy for your child's teeball games.
Gear you should buy for T-ball Games and Practice:
Batting Tee
Regulation-size tee ball
Teeball Bat
Teeball Glove
With all this essential equipment and gear, children will get the best protection and support they need to boost their performance.
8 Essential Equipment for T-ball Games and Training Sessions
Louisville Slugger Meta (-13)
Brand: Louisville Slugger
Type: Teeball Bat
The Louisville Slugger Meta equips teeball batters with explosive power in their swing through its one-piece design. In addition, the composite material of the Meta allows uses to experience the fastest swing speed possible.
Furthermore, Louisville Slugger utilized a molded end cap design on the Meta, making it lighter to swing. Moreover, by maximizing the barrel profile, the Meta minimizes unnecessary mass for an overall lightweight bat
Lastly, the handle of the Meta features the LS Pro Comfort Grip. This feature helps the Louisville Slugger Meta to provide users with superior grip, enhancing the bat's control and feel.
Specification:
Composite barrel material
Molded end cap design
LS Pro Comfort Grip
One-piece construction
-13 baseball bat drop
PROS:
Specifically manufactured for teeball games.
Ultra-lightweight feel, making it excellent for children.
The molded end cap design makes the bat easy to swing.
The LS Pro Comfort Grip provides a delicate feel for children's hands.
CONS:
Not ideal for hitting regular baseballs or softballs.
TANNER TEE the ORIGINAL | Premium Baseball/Softball Batting Tee
Brand: Tanner Tee
Type: Batting Tee for Teeball Games and Training Sessions
The Tanner Tee is the industry standard when it comes to teeball training, especially for children learning how to swing. Featuring an original hand-rolled FlexTop, the Tanner Tee excels at teaching children the required muscle memory during ball contact.
Moreover, the Tanner Tee features durable materials, making it an excellent addition to a teeball and baseball coach's gear. In addition, the Tanner Tee is adjustable from 26" up to 43", making it ideal for teeball and baseball training.
Furthermore, the Tanner Tee features a square base for stability and portability purposes. Finally, this particular batting tee offers exceptional ball presentation, allowing teeballs to rest on top of the tee for an easy hit.
Specification:
Hand-rolled Flextop
26"-43" height adjustment
Solid metal construction
Patented Friction Technology
Rounded base
PROS:
Provides excellent ball presentation for improved ball visibility.
Helps develop the essential muscle memory for batting.
The hand-rolled FlexTop simulates a realistic ball contact feel when hitting the ball.
Offers a patented friction technology for easy height adjustments.
CONS:
Features an expensive pricepoint considering that it's a standalone product.
New Balance Kids' 4040 V5 Molded Baseball Shoe
Brand: New Balance
Type: Molded Cleats for Kids
The New Balance 4040 V5 provides children with ample maneuverability and traction as they run around the playing area. In addition, Little League approves of the 4040 V5 since it features molded cleats, making it safe for children to use.
Firstly, the New Balance 4040 V5 utilizes a 100% synthetic construction, making the shoe extremely light. Moreover, the perforated synthetic upper of the shoe helps with the shoe's breathability and comfort.
Secondly, the 4040 V5 features an incredible fit thanks to its lace closure design. Furthermore, this allows the 4040 V5 to fit snugly even when running around the play area. Lastly, the EVA midsole and rubber molded outsole offer incredible comfort and traction during games.
Specification:
100% synthetic leather material
Perforated synthetic upper
EVA Midsole
Rubber molded outsole
Lace closure and cage
PROS:
Offers sizes for both narrow and wide footed players.
Approved for Little League Teeball play.
Features lightweight materials.
The utilization of molded cleats provides users with decent traction and maneuverability during games.
CONS:
Lacks in terms of traction when compared to metal cleats.
Tebery 12 Pack Standard Size T-Ball Training Baseballs
Brand: Tebery
Type: Training Balls for Teeball
When preparing for a big game, nothing beats the feel of training teeballs. The Tebery Training balls provide a softer touch and better elasticity compared to regular baseballs. As a result, players can train for hours on end without excessive muscle fatigue.
Even though the design is identical to regular baseballs, the Tebery T-ball Training balls feature a lighter weight. Featuring a synthetic leather cover, rubber fillings, and red stitchings, these training baseballs capture the classic look and feel of baseballs minus the hefty weight.
Furthermore, the Tebery features rubber fillings that help cushion excessive vibrations upon ball contact. Therefore, minimizing the overall sting felt by the user, allowing for longer training sessions.
Specification:
12 pieces bundle
Rubber fillings
Synthetic leather cover
Traditional red stitchings
Reusable mesh bag drawstring
PROS:
Allows children to train longer in comparison to training with regulation baseballs.
Specifically designed for teeball training sessions.
Provides superior elasticity and impact cushioning compared to regulation baseballs.
Comes with unmarked leather skin for labeling or autograph purposes.
CONS:
Not durable in comparison with regulation baseballs.
Rawlings Coolflo Youth Tball Batting Helmet
Brand: Rawlings
Type: Teeball and Baseball Helmet for Kids
Even in teeball, children must wear ample head protection when using a batting tee. Featuring an ABS shell and dual-density foams, the Rawlings Coolflo Youth excels in terms of teeball batting protection.
Moreover, the Rawlings Coolflo Youth features excellent ventilation thanks to its COOLFLO ventilation system. This feature enables the helmet to continuously let cool air in while expelling hot air out of the helmet.
Furthermore, the Rawling Coolflo Youth Tball Batting Helmet comes with pre-drilled holes for optional face guards. Lastly, Rawlings ensured that this helmet meets the NOCSAE standards, protecting children against direct ball contacts to the head.
Specification:
COOLFLO Ventilation System
Dual Density Foam
Pre-drilled faceguard attachment points
6 1/4" – 7 1/8" sizing
ABS Plastic Shell
PROS:
Meets the NOCSAE standard for Teeball play.
Features a one-size-fits-all sizing.
Comes with a comfortable fit because of its dual-density foam material.
The COOLFLO Ventilation System effectively ventilates the helmet even during hot days.
CONS:
Faceguard and chin strap not included.
Franklin Sports Soft-Strike Teeball
Brand: Franklin Sports
Type: Official Game Balls for Teeball
The Franklin Sports Soft-Strike Teeball features the official teeball size and weight of 9" and 4oz. In addition, the hollow rubber core of the Soft-Strike provides younger players with a safe to throw and catch teeball.
Furthermore, the Soft-Strike utilizes a Syntex Synthetic cover paired with double-ditched seams, offering unparalleled durability. Plus, the hollow core technology of the Soft-Strike allows balls to cut off excess weight.
Lastly, the Franklin Sports Soft-Strike captures the size of regulation size baseballs while providing a lighter feel. As a result, this makes the Soft-Strike excellent for players learning how to bat and throw baseballs.
Specification:
6 pieces baseball
Hollow rubber core
Syntex Synthetic Cover
Double-stiched seams
Size and weight: 9" and 4 oz
PROS:
Fully-captures the size of regulation baseballs.
Utilizes the official teeball size and weight.
Approved for Teeball play.
Features a hollow core, providing a lightweight feel excellent for beginners.
CONS:
The skin of the Soft-Strike is prone to cracking.
Franklin Sports MLB Teeball Starter Set
Brand: Franklin Sports
Type: Teeball Training Bundle
The Franklin Sports MLB Teeball Starter Set features essential training equipment for children learning how to play baseball. Including a batting tee, pitch back net, and throw-down bases, this makes this starter set excellent for home training sessions.
Furthermore, the MLB Teeball Starter Set incorporates easy-to-assemble parts, allowing for a quick setup resulting in efficient training sessions. In addition, these easy-to-assemble parts are also lightweight, making them both portable and easy to store.
In a nutshell, Franklin Sports designed the bundle with durable materials without compromising its overall weight. Therefore, making the Franklin Sports MLB Teeball Starter Set excellent for personal training and traveling teeball teams.
Specification:
Easy-to-assemble Components
Throw-down base set
Batting Tee
Pitchback net
PVC Plastic & Foam materials
PROS:
The included tee is adjustable from 23" up to 33".
Features durable pitchback nets.
Incorporates easy-to-assemble parts.
Extremely lightweight and portable.
CONS:
The included throw-down base set is too thin for proper training usage.
PowerNet Baseball T-Ball Coaching Bundle
Brand: PowerNet
Type: Teeball Training Bundle
The PowerNet Baseball T-Ball Coaching Bundle is the ultimate teeball training equipment for beginners learning to play baseball! Firstly, the included adjustable tee is capable of reaching heights from 22" up to 35". Thus, this makes the PowerNet T-ball bundle perfect for children regardless of height.
Secondly, the PowerNet Bundle comes with 6 softcore teeballs, making it safe for children to use. Moreover, the softcore teeballs feature a rubber core, making them light enough for children to safely practice their fundamentals.
Lastly, the set includes 5 labeled throw-down bases excellent for training sessions. Coaches can use these bases to simulate bases inside the diamond, allowing children to familiarize themselves with the rules of baseball.
Specification:
Adjustable Tee
6 pieces Soft Core Teeballs
5 pieces throw-down bases
Solid tee base
Rubber core teeballs
PROS:
Lightweight and portable components.
The included parts are easy to assemble.
Features a tip-proof flexible batting tee stem.
Coaches can fold the rubber bases for easy storage and transportation.
CONS:
Comparatively more expensive than the Franklin Sports MLB Teeball Starter Set.
Frequently Asked Question about T-ball
Q: What age is teeball?
Little League designed teeball games for children ages 4-7. In addition, teeball provides children with a safe and non-competitive environment wherein they can learn the fundamentals of baseball and softball games.
Q: Is it Teeball or Tball?
Technically, both terms are correct. Tball, a.k.a. Teeball, is a team sport that utilizes the fundamentals of baseball and softball for children to enjoy.
Q: What I the diference between baseball and teeball?
In baseball, pitchers deliver the ball to the batter for a play to happen. On the other hand, in teeball, children send the ball into the playing area with the help of a tee.

Furthermore, teeball utilizes a game ball the same size as regulation baseballs. However, teeballs usually feature hollow cores, making the ball safe and light enough for children to play with.
Q: What does T stand for in Tball?
The "T" in Tball stands for "tee", which the game utilizes to help children send the teeball within the playing area.
Q: Can a 3-year-old play T-ball?
No, leagues do not allow children ages 3 years old and below to participate in T-ball games. However, they can start practicing baseball fundamentals in their homes for them to be ready once they reach the age of 4.